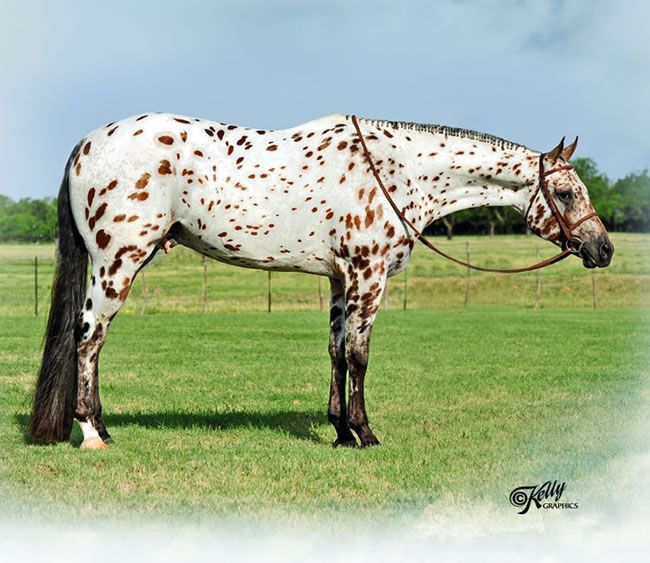 16.3 hands - HYPP N/N
Spot My Blue Boy, aka "Domino," was a beautiful bay leopard stallion sired by the legendary Quarter Horse, Skys Blue Boy. Domino retired from the show ring in 2012 with
6 World Championships
5 National Championships
4 Reserve World Championships
He capped off his last world show by handily winning the 2012 World's Best Appaloosa Award!
This big, sweepy stallion is everything that the Appaloosa enthusiast could want in one handsome package, a pedigree of superlative quality, a proven show record and outstanding color. His offspring are continuing his winning tradition with several World and National titles of their own. Check out our Winners tab to see them!
On October 1, 2018, Spot My Blue Boy was laid to rest due to recovery complications from his January 2018 broken leg. Domino, as he was affectionately known around the world, was a 2007, striking, bay leopard stallion sired by the legendary Skys Blue Boy. His ashes will be buried under a freshly planted Live Oak tree in front of his barn at Chepota Farm. A stone memorial commemorating his life will be placed beside its trunk.
Rebecca Hogan of Weatherford, Texas, bought Domino in 2009 from his breeders Linda and Ray Monaco. "After talking for a year, I took the money I was saving for a truck and bought him instead. I was completely out of my depth. It was a leap of, not faith, but lifelong dreams," Hogan says. "He made all my dreams come true."
Domino won the title of 2012 World's Best Appaloosa after garnering five World Championships and six National Championships in three years. Lisa Ligon, his first and most enduring trainer, says of Spot My Blue Boy, "He was one of the most kind and trainable horses I ever had the privilege of working with. He had a great personality. Just a damn good boy." Ligon has trained many of his winning offspring. In 2012, he retired to the breeding shed. With less than seventy foals of showing age, he has sired nineteen World Champions, nine National Champions, one Reserve Congress Champion, one BCF Champion, and twelve European Champion.
Domino was a gentle giant and always exceptionally well behaved. "I never worried about introducing him to new people. Even small children could love on his face without concern. He showed incredible heart after his injury. He took every treatment with massive stoicism and remained happy until the end, even though he was uncomfortable." Hogan says.
"Spot My Blue Boy was my entire life for the last eleven years. So many people guided me in making him the top stallion that he was. I was so hopeful that he was coming back from his injury. Losing him has left such an ache in my heart. I'm devastated, but seeing his babies do well is very gratifying to me."-------The Equine Chronicle, Nov 6, 2018
---
Frozen semen contracts are available for the 2022 breeding season. Foals are eligible for the NSBA Color BCF program and the ApPHA APPsolute Sires program. Please contact us if you are interested.
---
Skys Blue Boy


Click here for More Info!

---

SKY BLUE WALKER

---

CLOUD WALKER

---

STRAWBERRY PIGEON

---

MILLIES DANCER TB

---

MARSHUAS DANCER TB

---

SO FINE TB

---

CBH FRECKLED ANNIE

---

CHIEF BIG HAWK

---

A FRECKLES BANDIT

---

BANDITS BLACK ROSE

---

JETS BOLD KIM

---

3 JETS SILVER BARS

---

GO MEYER CINDY

---