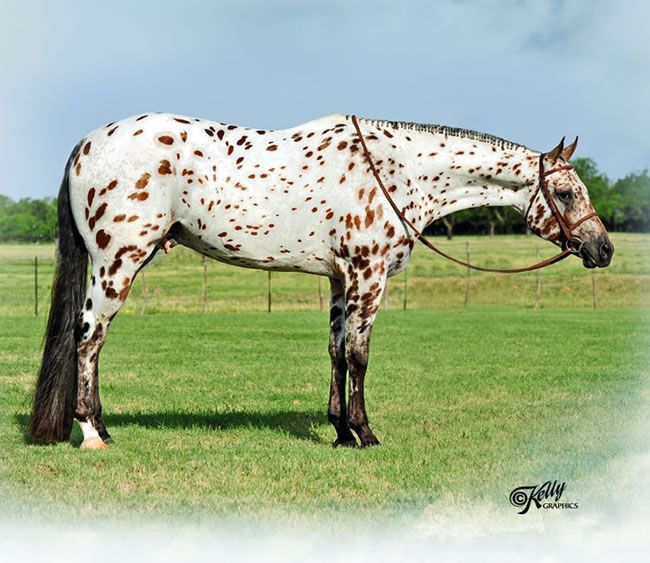 16.3 hands - HYPP N/N
Spot My Blue Boy, aka "Domino," is a beautiful bay leopard stallion sired by the legendary Quarter Horse, Skys Blue Boy. Domino retired from the show ring in 2012 with
6 World Championships
5 National Championships
4 Reserve World Championships
He capped off his last world show by handily winning the 2012 World's Best Appaloosa Award!
This big, sweepy stallion is everything that the Appaloosa enthusiast could want in one handsome package, a pedigree of superlative quality, a proven show record and outstanding color. His offspring are continuing his winning tradition with several World and National titles of their own.
After years of exceptional help at Dry River Ranch and Raggio Ranch, we are thrilled to have Spot My Blue Boy stand at home. All of his foals are eligible for: Appaloosa Breeder's Trust, Appaloosa Pleasure Horse Assoc. futurity, NSBA BCF and SIF classes, and ApHC World Show 2YO Incentive classes.
Accomplishments of Spot My Blue Boy's get:
Lukin For Blue Spots:
Reserve BCF Champion 2YO Open Color Hunter Under Saddle

Coats N Blue Tails:
World Champion Hunter In Hand
National Champion Hunter In Hand

The Blue Huntress:
BCF Champion Hunter Longe Line
National Champion Hunter In Hand
Reserve World Champion Hunter Longe Line
3X European Champion

Missys Blue Girl:
Reserve World Champion Hunter In Hand
Reserve NSBA World Champion Hunter Longe Line
Reserve BCF Champion Hunter Longe Line

Details Gone Bluey:
National Champion Hunter In Hand

Sweet Lukin Blues:
Reserve World Champion Longe Line
---
Skys Blue Boy


Click here for More Info!

---

SKY BLUE WALKER

---

CLOUD WALKER

---

STRAWBERRY PIGEON

---

MILLIES DANCER TB

---

MARSHUAS DANCER TB

---

SO FINE TB

---

CBH FRECKLED ANNIE

---

CHIEF BIG HAWK

---

A FRECKLES BANDIT

---

BANDITS BLACK ROSE

---

JETS BOLD KIM

---

3 JETS SILVER BARS

---

GO MEYER CINDY

---